Listen
About
Smoldering with sensuality, smoking with anger and bitterness, reeking with the raunchy wit and grit of his troubled, though often redeemed characters, the dramas of Tennessee Williams blaze across the pages of 20th-century American theatre history. In addition to plays, Whitman wrote short stories, memoirs, and a novella–plus words that were intended for music. These include poems like the ones Paul Bowles chose for his Blue Mountain Ballads, and the libretto for Lord Byron's Love Letter, an opera by Raffaello de Banfield.
As Williams would describe him in his autobiographical play The Glass Menagerie, his father was a traveling salesman who fell in love with long distances and skipped the light fantastic out of town. He left behind in Columbus, Mississippi, in painfully straitened circumstances, Tom (the same name given to the character in the play); his physically and mentally challenged sister; and their neurotic mother. The genteel daughter of a clergyman, Tom's mother moved her family to a cheerless apartment in Saint Louis in 1919, where Tom spent his adolescence and young manhood. His tenure at the University of Missouri was a rocky one, interrupted by odd jobs and a nervous collapse brought on by his desperate attempts to "write his way out" of Saint Louis. In 1936 he enrolled at Washington University, still in Saint Louis, but then transferred to the University of Iowa, from which he graduated in 1938 with a degree in playwriting and theatre arts.
In the years following college, Williams drifted from city to city and job to job, all the while writing stories, poems, and plays. He received encouragement and support from the Group Theatre, agent Audrey Wood, and the Chicago theatre critics, who fought to insure that The Glass Menagerie made it to New York, where it won the 1945 Drama Critics' Circle Award and established the playwright's reputation. There followed the Pulitzer Prize-winning A Streetcar Named Desire (1947), Cat on a Hot Tin Roof (1955), The Rose Tattoo (1950), Orpheus Descending (1957), Sweet Bird of Youth (1959), and The Night of the Iguana (1962)–all of which became stage and screen classics. In each of these, as is in poetry and other writings, Williams examines the world of human passions and perversions with scathing honesty, fierce wit, and frequent tenderness. His work is fraught with images of brutality counterbalanced by fragile beauty; it is haunted by the loneliness, isolation, guilt, and ambiguity which fashioned his own psyche.
–Thomas Hampson and Carla Maria Verdino-Süllwold, PBS I Hear America Singing
Recordings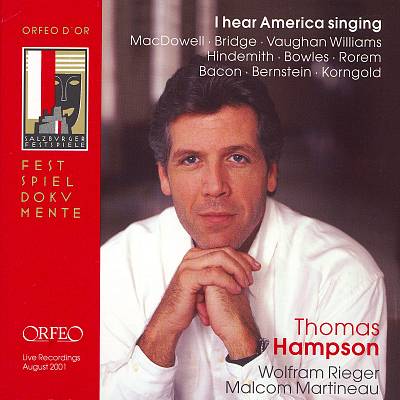 I Hear America Singing
(Ernst Bacon, Jean Berger, Paul Bowles, Henry T. Burleigh, Stephen Foster, Ernest Gold, Charles Griffes, Richard Hageman, Sergius Kagen, Charles Martin Loeffler, Edward MacDowell, Charles Naginski, John Jacob Niles, Hermann Reutter, Frédéric Louis Ritter, Ned Rorem, William Grant Still, Hugo Weisgall and Tennessee Williams)
2001
View recording
Ev'ry Time We Say Goodbye
(Paul Bowles, Samuel Barber, Stephen Foster, Charles Griffes and Tennessee Williams)
1996
Works By Thomson, Bowles, Hoiby, Hundley
(Paul Bowles, Lee Hoiby, Richard Hundley, John Musto, Virgil Thomson and Tennessee Williams)
1988
Tennessee Williams Film Collection
(Tennessee Williams)
2006
The Glass Menagerie (DVD)
(Tennessee Williams)