Audio
About
Bacon confirmed his preference for setting texts by Dickinson in his book Words on Music (Syracuse University Press, 1960). He observed that in "America we have a wealth of lyric poetry calling for song, particularly the contributions of the women, beginning with Emily Dickinson…"
Performers and scholars have ranked Bacon's Dickinson settings among the best in the repertoire and have considered him to be one of Dickinson's best interpreters. Few of Bacon's songs have been published separately. Rather, most of his songs have been issued in collections, and quite often a song will appear in more than one collection, usually in a revised version. One such collection is Bacon's Songs from Emily Dickinson, which was self-published by the composer. Among the songs in this collection is Bacon's setting of "It's Coming–the Postponeless Creature," a quietly dramatic dirge featuring a death-march accompaniment.
–Library of Congress
Text
It's Coming – the Postponeless Creature
from Songs from Emily Dickinson
It's coming — the postponeless Creature —
It gains the Block — and now — it gains the Door —
Chooses its latch, from all the other fastenings —
Enters — with a "You know Me — Sir"?
Simple Salute — and certain Recognition —
Bold — were it Enemy — Brief — were it friend —
Dresses each House in Crape, and Icicle —
And carries one — out of it — to God —
Recordings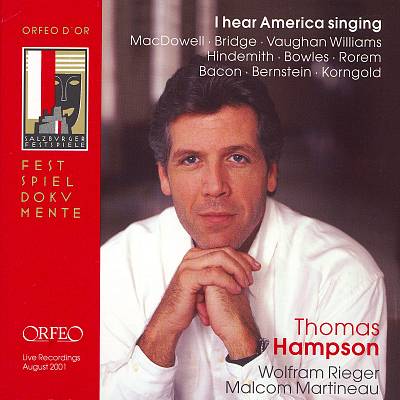 I Hear America Singing
(Ernst Bacon, Jean Berger, Paul Bowles, Henry T. Burleigh, Stephen Foster, Ernest Gold, Charles Griffes, Richard Hageman, Sergius Kagen, Charles Martin Loeffler, Edward MacDowell, Charles Naginski, John Jacob Niles, Hermann Reutter, Frédéric Louis Ritter, Ned Rorem, William Grant Still, Hugo Weisgall and Tennessee Williams)
2001
View recording
Sheet Music
Songs from Emily Dickinson
Composer(s): Ernst Bacon
Song(s): As If the Sea Should Part
Let down the bars
O friend
The grass so little has to do
A threadless way
The postponeless Creature
I'm Nobody
My river runs to thee
How still the bells
The sun went down
The grass so little has to do
Savior
She went as quiet as the dew
Wild nights
Buy via Classical Vocal Reprints